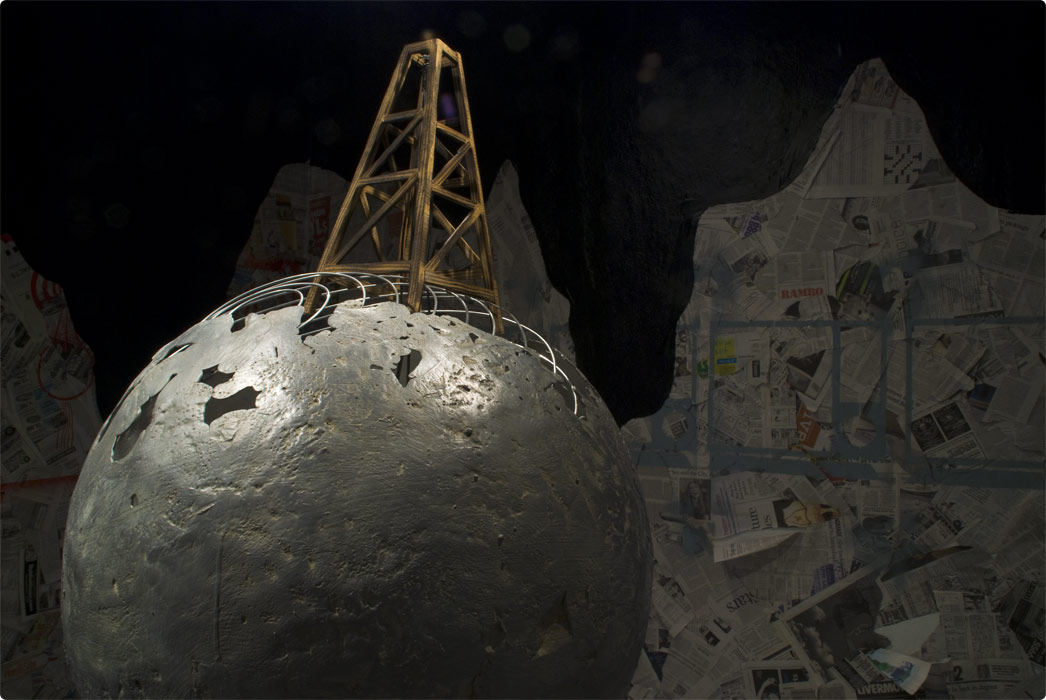 I believe that we currently live in a media empire and that like all of the empires of the past, it too will fall. Fake Empire is a visual response to one question. What happens when the communication systems and media outlets that we currently rely on are severed?
This gallery exhibition was for my senior thesis at San Jose State University. It was the culmination of four years of education and nearly seven months of dedicated planning and building. The central piece from this show was a six foot tall sculpture cast in bronze of an earth suspended by an assortment of  electrical cables. On top sat a wooden telecommunications tower. The gallery itself was then layered with newspaper stories on what appeared to be a bleeding wall of ink. A stencil I made based on the sculpture was used around campus as a form of propaganda/graffiti advertising. It, along with a television stencil, was used on the walls as well.
My hope was to show or draw up imagery of what our modern day civilization would look like if it came to an end. This could happen for a number of reasons and was not solely tied to the idea of a post apocalyptic or doomsday type scenario. I drew inspiration from the likes of Saul Bass and Shepard Fairey.